In case you were wondering let me assure you, God is indeed in Bakersfield, CA.
Tonight kicked off the first night of the Living Proof Bakersfield meetings, and it was a glorious beginning. We couldn't have asked for better weather. The sun was shining as people began to gather at the Tent. It's a beautiful sight to see lines of cars stretched out for miles, as they make their way onto the grounds, knowing they are full of souls seeking God.
As so often happens, the people filled the Tent early, so we began early. The Tent had begun to fill before the announced time for the service, and was now completely full. The chairs outside were filled with several thousand more. It was a wonderful sight!
The worship team did a wonderful job. Their music was a perfect fit for the atmosphere on the grounds. From the first note, the presence of God was ushered in.
As they began to sing, I made my way around the grounds with my camera, enjoying the worship songs, but when they began to sing, "A New Name Written Down in Glory," something changed. It felt to me like the Lord had revealed the theme of this crusade.
After a few more songs, Mario took the stage. He mentioned how, during the first crusade in Bakersfield, our Tent was the size of the middle section of our current Tent. Look what the Lord has done!
Mario took a moment to introduce Manuel Carrizalez, the leader of Stay Focused Ministries. Manuel shared for a few minutes, speaking about the importance of never giving up, never quitting. He urged us to remember that we are fighting for our cities, and that this is not the time to give up, but to continue—to press in.
Mario then began to talk about experiencing the power of God. How he was going to go after those who have not yet had the chance to experience the power of the Lord.
He asked the audience if they knew how to identify a counterfeit. He said that the way you can tell something is a counterfeit, is because there is something real that has been imitated. He added that divine healing today is being imitated, manipulated, and monetized.
That imitation began to offend Mario, back when he was first saved. He sought to find out if what he was seeing was real, or simply the result of emotionalism. Through observing healings taking place in meetings with Oral Roberts and Kathryn Kuhlman, he learned that it was indeed real. And he discovered this truth: Healing would not be counterfeited, unless first something genuine and real was there.
He then charged the audience, "Don't you dare think or say that miracles aren't real. One might just happen to you, even without your permission."
Mario began to speak to the lost souls in the crowd. He talked about how the whole world had stopped for one funeral. When the funeral for Michael Jackson was aired, possibly one billion people saw it. After all the celebrities had spoken, a pastor from Los Angeles added this: "Even the king of pop must bow his knee to the King of Kings."
Mario talked about how that message stirred him.
He quoted Philippians 2:10-11, "…at the name of Jesus every knee should bow, of those in heaven, and of those on earth, and of those under the earth, and that every tongue should confess that Jesus Christ is Lord, to the glory of God the Father."
Then Mario said, "No one will be exempt from this. Biden, Putin, Elon Musk, your favorite celebrity, or you. Two things will happen: you will bow your knee and say with your own mouth, "Jesus is Lord!"
He shared that a day is coming when each person on earth will face death, and at that moment, they will stand before God. And it can either be the best moment or the worst, because each one will bow their knee and say, "Jesus is Lord!" It will be ultimate joy or ultimate horror.
He said you can surrender now, or surrender then.
He talked about how it's always been a frightening prospect to live without God, but how much more frightening it is today.
He talked about the SVB collapse and how the entire financial world is waiting to see how bad the economy is going to be affected.
"Every Knee Is Gonna Bow and Every Tongue Will Confess." If you do it after you die, it will do nothing for you, but if you do it now, it will do everything for you. You will have peace, joy, and power. And you can tell the Devil, "You don't own me anymore, I have been set free!"
He shared the verses in 2 Timothy 3, where it talks about what mankind will be like in the last days, and how those verses blame how perilous the times will be on man's condition. And that is where we are, right now: America is going out of its way to corrupt our children. The times are dangerous, they are indeed perilous.
He then said, "What happens when you bow your knee and call him Lord and King and say, 'Yes,' to Him, and 'No,' to what is going on around you? The power to forgive will get in you, and suddenly, all the dead feelings will come back to life."
He said, "The people in this room who are in danger, are the people that none of this information moves." The person who is safe, is the person who begins to cry and shake, because they realize they need God.
After this, he made the plea for those who want to get right with God to raise their hand, and then come forward.
As I've shared many times before, this is always my favorite part of our events. Every time, I wait with eager anticipation to see the souls that are rescued as they surrender their lives to God and call him Lord and King.
The response was immediate. Many hundreds of people came forward. The entire front of the Tent was full of people. The crowd stretched across the width of the tent, from one side to the other. Hundreds of souls seeking salvation.
It was a beautiful and truly miraculous sight as Mario led them all in a prayer of surrender! God is truly amazing!
After they prayed, they were released to go and meet with workers outside the Tent. Their information was then gathered, so we can match them up with the wonderful churches in the area.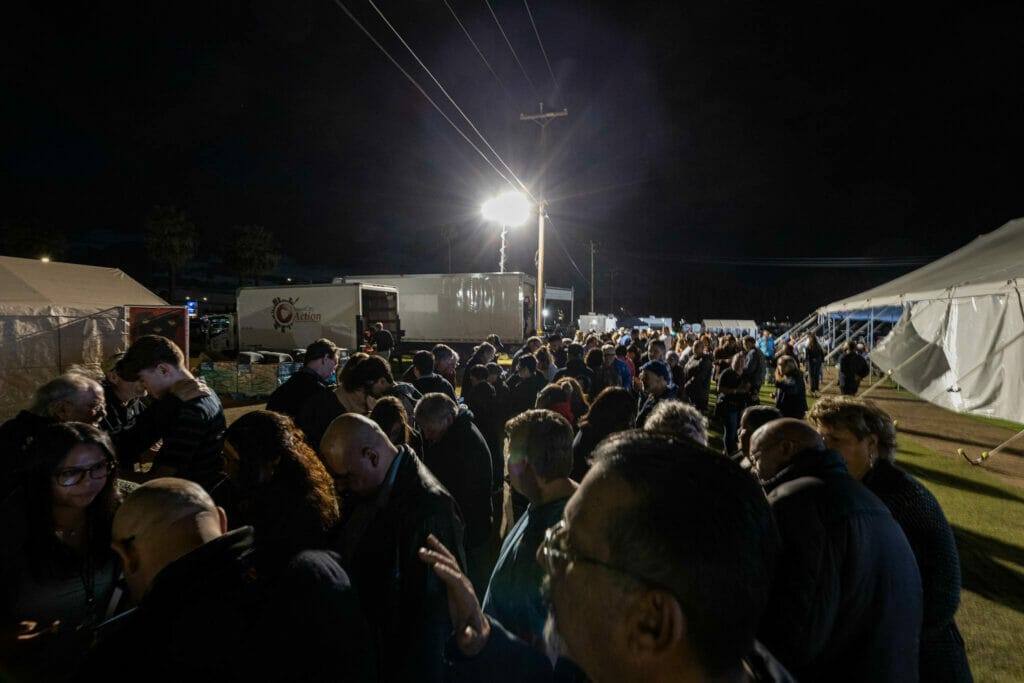 When they returned to the Tent, a powerful time of miracles and healing began. I love to see God moving through a crowd and see Him touching their physical bodies, but the greatest miracle is seeing a soul restored to God.
Mario made it very clear that the miracles happening in the room were solely the work of God. And that, while God has chosen to work through Mario, it is not Mario's doing in any way. Only God. And only in God's timing.
There were several people who were called out with specific needs. A young woman suffering with migraines, a woman in a wheelchair. Even though there were so many needs present in the room, yet it was evident that the power of God was more than sufficient, as His healing touch moved among His children.
I love it when God touches people throughout the crowd, even without a specific individual being called out or identified. You can hear gasps and cries in the crowd as they realize the healing power of God touched their body. It is so beautiful.
Even though the message for souls was serious and somewhat frightening, the atmosphere in the Tent was serene and peaceful. You could feel the love of God resting on His children.
And even after the night wrapped up and most of the crowd had made their way to their cars, the presence of God was still there in the Tent. There were pockets of people gathered in small groups, praying for one another, in the sweet presence of the Lord.
If you were there, you know how amazing the night was. If you missed it, don't fret, there are still three more nights. If there is any way for you to get there, I would strongly urge you to do so. And if you can, bring your lost friends and neighbors.
Salvation and healing have come to Bakersfield, in the mighty Name of Jesus Christ!
The times are desperate, but our God is bigger! Amen!
WE WILL BE STREAMING TONIGHT'S SERVICE LIVE. USE THIS LINK:
Or scan this QR code
Bakersfield Crusade March 12th-15th 6:30pm nightly.
Location | 1700 Golden State Ave. Bakersfield, CA, 93301
Contact us at 1-800-980-3424 or 1-800-466-7205