Night two began with a very different atmosphere. Where there had been a very peaceful, sweet presence of God from beginning to end the first night, the second night began with an intensity that was palpable. The fire of God was present from the first note played by the worship team.
They opened with the song, "There's A New Name Written Down in Glory," but the theme-sound for tonight came in their final song, "I Speak Jesus." This was to be a night of intense decision and declaration. God had something to say, and He would do so with a show of His mighty power.
When Mario took the stage, he began by sharing a powerful word from the Lord. He said the current revival in America did not begin at Asbury Seminary, although it was certainly a key part of it. The way to determine when this latest revival began is to be found in the prophet Elijah's prayer on Mount Carmel.
"Hear me, O Lord, hear me, that this people may know that You

are

the Lord God, and

that

You have turned their hearts back

to You

again

."  (

1 Kings 18:37)
Because of God's power to change men's hearts, the revival in America began when a football player collapsed on the field with a heart attack. And instantly prayer was legal again: on the field, on television, and in homes around the country.
God proved that he had the power to make America pray, even when they say they don't believe in prayer. It became about God, and the nation couldn't explain why.
He went on to talk about two people who have influenced his life, Kathryn Kuhlman and David Wilkerson, and how that 'DNA' is why he doesn't need the trinkets and accolades of ministry. He said someone told him he should "claim big things from God." He responded by saying, "I will claim prostitutes to be saved, and gangs to turn to God. I will claim wheelchairs to be emptied, drug abuse to be solved, and the miracles of God to hit the lost!"
Mario said this night's message would simultaneously target two specific groups of people. One is the frustrated Christian— the one who no longer wants to be entertained or placated, but who wants God. Those who are sick of the world's systems invading the Church. Those who remember when it was about the Word of God, the Presence of God, and the Miracles of God. The other group is the lost souls.
He brought the two groups together with the story of King David at Ziklag. When he and his men had returned from battle to find their city burned and their wives and children taken, in a moment of despair and frustration, when even his own men were turning on him, the Bible says David "encouraged himself in the Lord"
David asked the Lord if he should pursue, and the Lord said, 'Yes.' And without knowing where to go, he gathered his men and headed out. And on the way, he came upon someone who ultimately helped him.
The man they found was an Egyptian slave who had been abandoned, and left to die, by the Amalekites because he was sick. David took the time to restore the man back to health and in exchange that man led David and his men to the Amalekite camp where they rescued their families and their possessions.
David was the "frustrated Christian," and the Egyptian slave was the lost soul. David was tired of being placated and settling for whatever situation he found himself in; and the slave was lost, alone, uncared for and left to die.
David showed compassion and love for the man, and in return, the man led him to God's restoration. The last person David ever thought could help him, not only knew how to help but, took him there.
David's faithfulness to follow God's vision was rewarded with a slave who at first seemed to make David's situation worse, but in reality, brought David closer to his true destination. The vision he had from God was realized in a way he never would have expected or could have explained. And in like fashion, the Church needs to get out of its funk and pursue the vision God has placed in its heart. We must be willing to accept whatever solution God brings along the way.
He then told the story of when Jacob wrestled with God in the night. And how he took hold of God and refused to let go until God blessed him. Jacob realized this was his moment, it was now or never, and he refused to let it pass him by. He was going to grab hold of God and say, "God, change me. Make me something I've never been before. Make my life of value."
Mario asked the question, "How is it that God couldn't break Jacob's hold? How is it that He had the power to break his hip, but not break his grip?" He said, "Because the one thing God cannot resist is the cry of one of His children."
He then called for those who wanted to be set free to raise their hands, and then had them come forward, and we witnessed another amazing, great response. Hundreds flooded forward and filled the front of the Tent from one side to the other.
What a beautiful sight! So many souls who realize this is their do-or-die moment. Like Jacob, they chose to grab hold of God and refused to let go, until He changed them.
After the people went out to be ministered to, the atmosphere in the Tent shifted, and God began to pour out his anointing. Then miracles began to happen.
Mario identified a couple on one side of the Tent and had them stand. Focusing on the wife, he told her of the many things going on in her body. And after confirming that what Mario was saying was true, she began to receive her healing and relief from her pain. She began moving her arms and legs, waving them around. Then Mario had her come to the front where she walked with ease back and forth across the front of the Tent.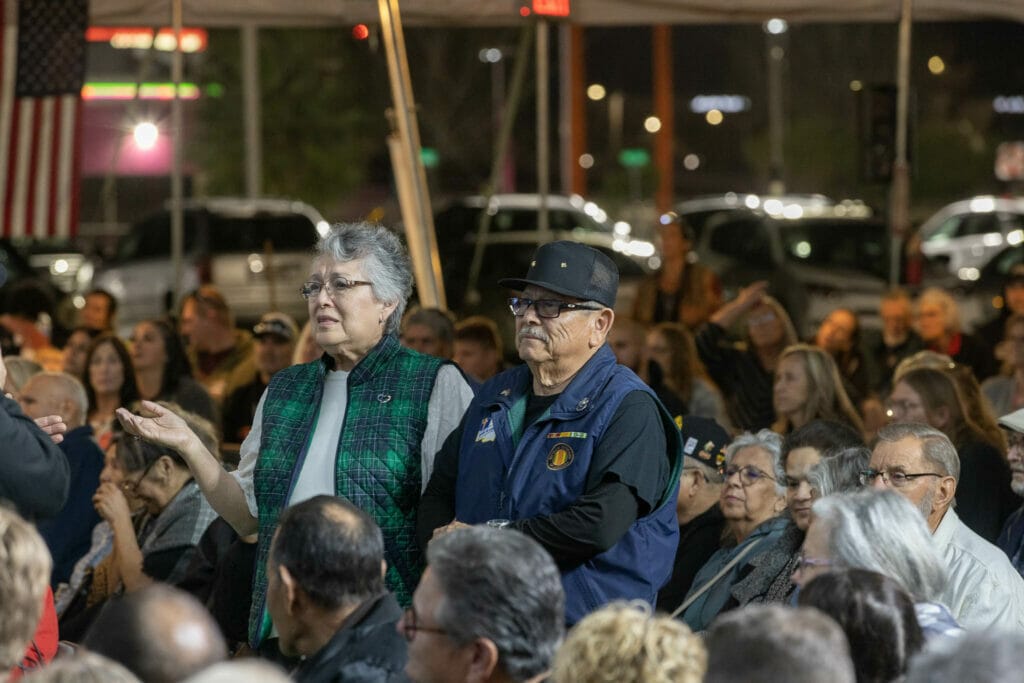 After she returned to her seat a few moments later, there was a shout followed by many voices shouting out, as she began to dance freely, weeping before God. I learned later that this couple enjoyed going on mission trips, but because of the many issues in her body, she could no longer travel. Her husband said he had stopped going because she could not go with him. Now at the end of the evening, they were rejoicing because they can once again go on these trips together.
After this, there was a rapid succession of people being identified and called out. Not many particulars were given, but people were responding with shouts and tears of joy as pain left their bodies.
One woman Mario identified, and while detailing the various things God was touching, he mentioned there was a growth of some sort in her throat. He had her touch the spot again, and she confirmed that it was no longer there. She could no longer feel it.
I tried to keep track of all the bodies that were touched in one way or another. They were coming in so fast that there were too many to track them all! Migraines, and spine issues, and many others. It was a beautiful time as God's fire moved through the Tent.
Mario concluded by having everyone who had some need of a miracle raise to their hand. He then had them repeat a prayer after him, to receive their miracle from God.
To close out the night, Mario had the worship team return to the platform and sing the wonderful old song, "What Can Wash Away My Sin?" After singing, Frank prayed a wonderful closing prayer and the worship team resumed singing.
While most left the Tent, a remnant of about 60 or so people stayed around the front singing and praising God. It was an amazing end to an amazing night.
If you weren't able to attend, it's still not too late. The crusade will continue for two more nights and we fully expect God to do mighty things! We hope to see you there!
Tuesday, March 14 & Wednesday, March 15 evenings at 6:30. We start when the tent is full so come early.
Location: 1700 Golden State Ave, Bakersfield, CA 93301
Or scan this code: