How do I tell of all that God did tonight in Los Angeles? It was such a powerful night! The night again began with Victory Outreach leading worship, and as always they were amazing.
About halfway through worship, there was a marked shift in the atmosphere as we felt the presence of the Holy Spirit fill the Tent. His sweet presence was so thick that people were no longer just singing along but were truly worshiping God. It was powerful.
Mario took the platform and after an opening prayer began another soul winning message. Mario titled his sermon, "You are not safe." He said the Holy Spirit was going to ask them to change their life, to turn from the way they are living and to live a new way, with a new power, and a new priority. And that the worst thing they could do is to say, No.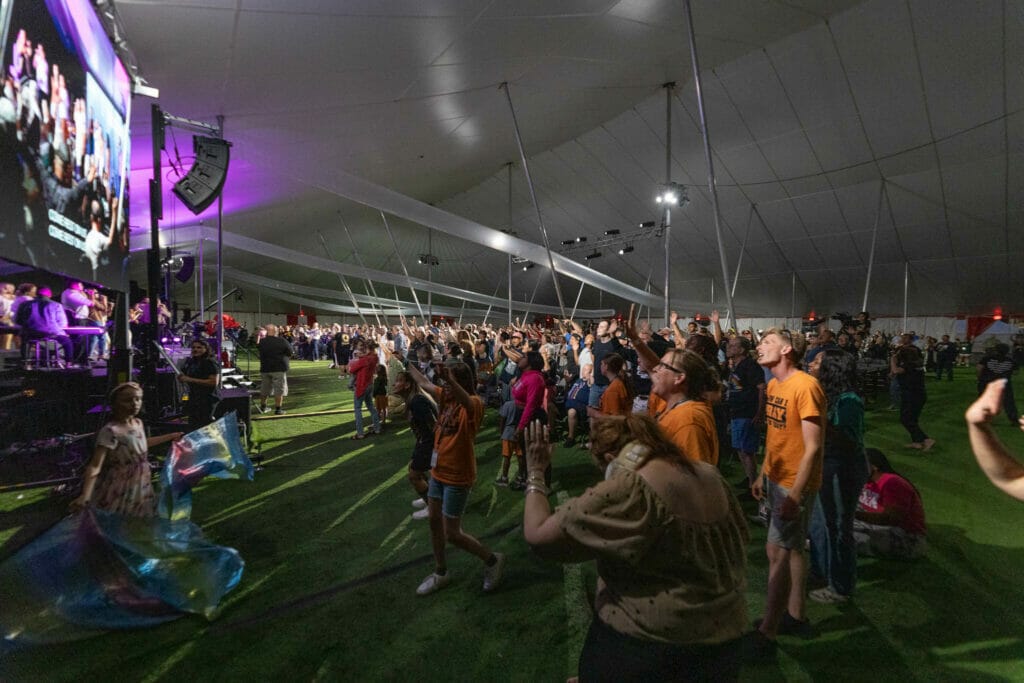 He said that one of God's greatest gifts today is the gift of sanity, and that when God calls them, many respond by saying how complicated and entangled their lives are. But when Jesus was faced with an impossible case, He said, "With man these things are not possible, but with God all things are possible."
Mario told them, "It's even possible, with Jesus' love in you, to forgive the person that, right now, you want to kill. It's possible to say, No, to a habit you never imagined you would be without."
He told the people the way the world is going they need to know Jesus, powerfully, intimately, totally, and without limitation. Today is not only the day of salvation, but the day of consecration. Today is the day of finding safety in Christ.
Mario talked about the false prophets who back in 2019 were predicting that the coming year would be one of peace, prosperity, and great blessing. He asked, 'Why didn't any of them see what was really coming? It's because Americans only want good news.'
But the Bible says, "The name of the Lord is a strong tower. The righteous run into it and are saved."
There is no safety in money, or celebrity, or vitamins, or an insurance policy. There is only safety in a right relationship with God.
He told about all the ways we think we are making ourselves safe. Where we live, where we work, where we shop, what we eat. But none of it is safe. The schools are not safe. But the name of the Lord is a strong tower!
Mario asked, 'Do you remember when church was safe? But now we are told Jesus loves you just the way you are. But they neglect to tell you He loves you too much to let you stay that way.'
He said, the most important safety is safety over the power of the devil. The devil destroys emotions and people. Demonic power is rampant.
Mario told a story about when he was invited to join a panel composed of leaders from all the religions of the world. Each speaker was given five minutes to make their case. All the others told how great their religion was. So, when Mario went up for his turn to share, he referenced a threat that was extant at the time – the Hillside Strangler, who had people living in fear. He said to everyone, 'You have heard what each of the religions can do, but not one of them could say they had defeated the devil.'
When you don't have the blood of Christ on you, or the power of Jesus in you, the devil knows you are fair game. He told the people that none of the other religious leaders could offer what Jesus offers. Because Jesus defeated the devil.
Mario then called for those who wanted the safety that only Christ can provide to raise their hands. Those who want to enter the strong tower of the name of the Lord and have safety.
Then he had them stand and come forward. Once again the altar was flooded with so many souls! They came, uncertain, afraid, and desperate for the safety that only Jesus can offer.
He led them in a powerful prayer of salvation, then directed them out to be ministered to by our many workers.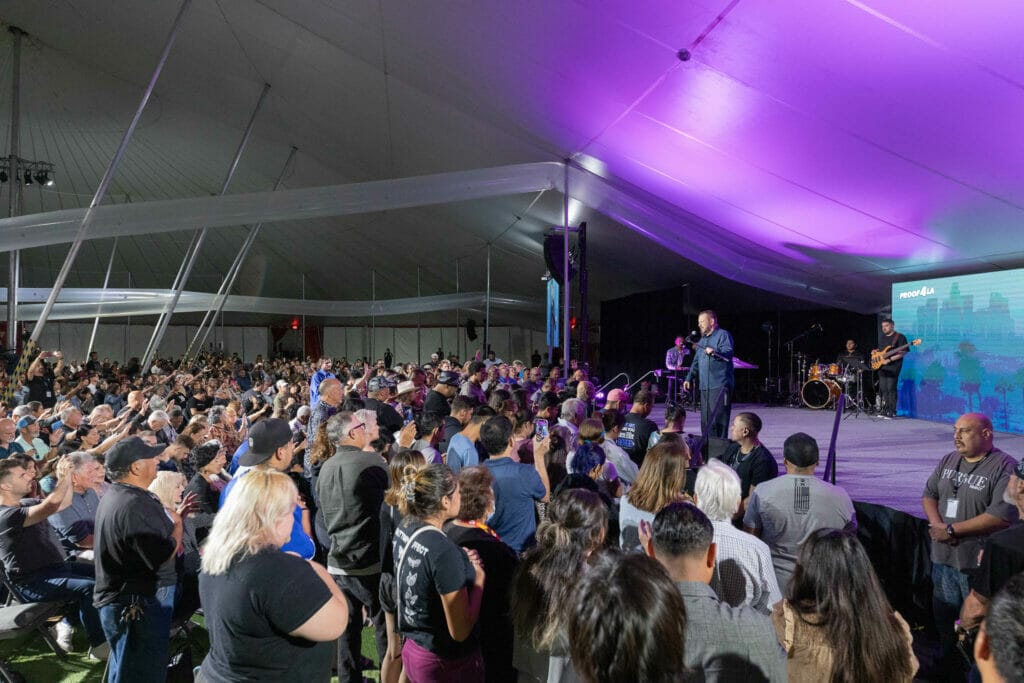 Almost immediately after they returned, the Holy Spirit began to fill the Tent with His presence .You could feel the shift in the atmosphere and it was clear that God was about to touch bodies.
Mario told how, although he has studied the Bible for many years, one day the Holy Spirit said, "I want you to understand the price of God's miracle working power. Many pastors want signs and wonders, but they are infected with church growth, which is grieving the Spirit of God."
Mario went on to say that if you think about it, when the world is burning up and being destroyed, what does it matter how big your church is? The pursuit of members is breaking up families and taking a terrible toll on people, mentally and physically. You should be going after Christ Himself. The Bible says, "On this rock I will build My Church."
He shared how healing does not come by demanding things from God, but by brokenness and a cry for mercy. He had everyone repeat: "Son of David, have mercy on me!"
After some short instructions, he wasn't able to wait any longer and began to call out healings.
A woman in the back had stomach pain and insomnia. He had her come out into the aisle and told her there was someone in her family who was also battling an illness. He then prayed over her.
Next he called out a couple, the man with heart and pulmonary-respiratory disease. God healed his lungs, heart, hands, shoulders, back, legs, and also a bone disorder.
Then he identified a man near the front who was due for a medical procedure. Mario told him that he won't need it now because God has healed his legs and his knees. The man began high-stepping out into the aisle and then walking back and forth across the front of the Tent, with no pain.
Then Mario came down off the platform and began to move through the crowd. He came to a woman and revealed that she had known she was going to be healed, and that God had already told her she would. She was healed in her bones and in her joints, healed of arthritis and bursitis. Mario had her move her neck and shoulders, and she was able to move without pain.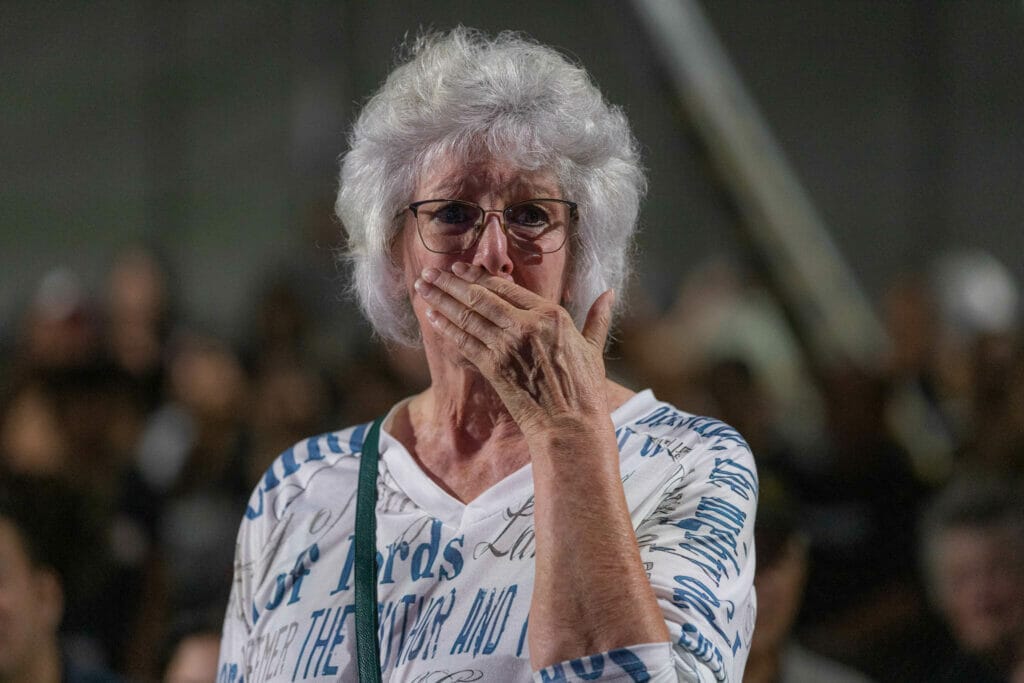 Next he went to a woman who had a disorder that caused every part of her body to hurt at the same time. She was experiencing chronic pain in her head, her joints, and her bones. It had been difficult to walk without pain, but now she came out and walked, then not only walked, but ran and danced across the front of the Tent. She was jumping and dancing and praising God.
He went to the other side of the Tent and spoke to a woman, identifying that there was a disorder which ran throughout her family, a hereditary condition that she had herself recently begun to show signs of. She was healed in her blood and her immune system.
Next Mario went around the other side and walked right into the rows to get to a woman who had recently discovered that something was growing in her throat. And it was now disappearing.
Then he had a man and his wife stand. The man was a war veteran and in a heroic moment of war, he had been severely wounded. His healing came in his heart and in his lungs. His entire right side, including speech and movement, had been affected by a stroke. And he was healed directly in front of us. As I watched, he began to move his arms, waving them over his head. As Mario was speaking to him, he had tremors in his hands, but they went away as he began to move. God healed him right before our eyes!
Mario was so overcome by all God was doing that he asked, "How in the world can we find the words? What can we say now? Except: "His name is Wonderful!"
Next he went to a man in the second row, and as Mario had the man stand, he was instantly healed, even before Mario could say anything! You could see it in his countenance that everything had changed. His nerves, brain cells, and blood were healed. His range of motion was fully restored. He began to breathe deeply and then to wave his arms, dance and bend over, reaching his toes. His balance, heart, and blood pressure were all restored. The man was overcome with emotion!
Mario then moved to the opposite side of the Tent. When he came to a certain man, he laid his hand on the man's shoulder. He told him he was being healed of breathing problems, severe apnea caused by a closure in his throat and sinus cavity. His back and legs were also healed.
Another man who had growths and had been told he had an expiration date, was told that those growths were being healed.
Then a woman in the front was healed in her eyes, throat, blood, back, legs, and arms. And Mario told her that her voice was being touched by the power of Jesus.
Mario returned to the platform because the Holy Spirit had told him that He wanted to begin healing en masse.
Mario went section by section, calling out people with various diseases: diabetes, sciatica, asthma, COPD, extreme pain in the feet, nerve damage, heart disease, and migraines.
These were specifically called out so people knew God was in the room and was healing.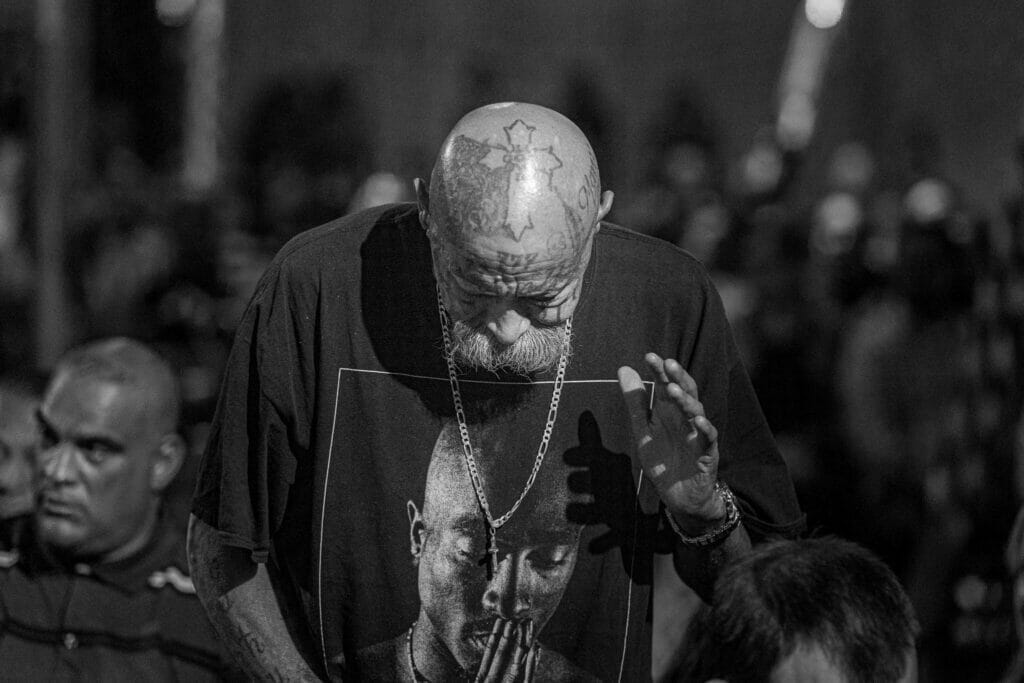 Then Mario had everyone who needed healing to raise their hands, and then had those around them place their hands on them and they all began to pray for one another.
As they began to pray, a woman began screaming on one side of the Tent. She had had a lump on her neck, but as they began to pray, she felt for it, and it was gone!
There was so much power in that room, it was clearly evident that the Holy Spirit was moving through our midst, and He was touching lives and healing bodies.
It was another incredible night! Each night I think it can't be topped, and then God shows up and tops the previous night.
It is amazing to be in the Tent and experience all that God is doing, but it is even greater when the reports come in, as people go to their doctors and get the full report which proves all that God has done.
If you weren't here tonight, you truly missed an incredible experience! But there is still one more chance. Wednesday night, Sept 13th, 6 PM, at the Fairplex in Pomona, CA.
Do whatever you need to do, to be here!