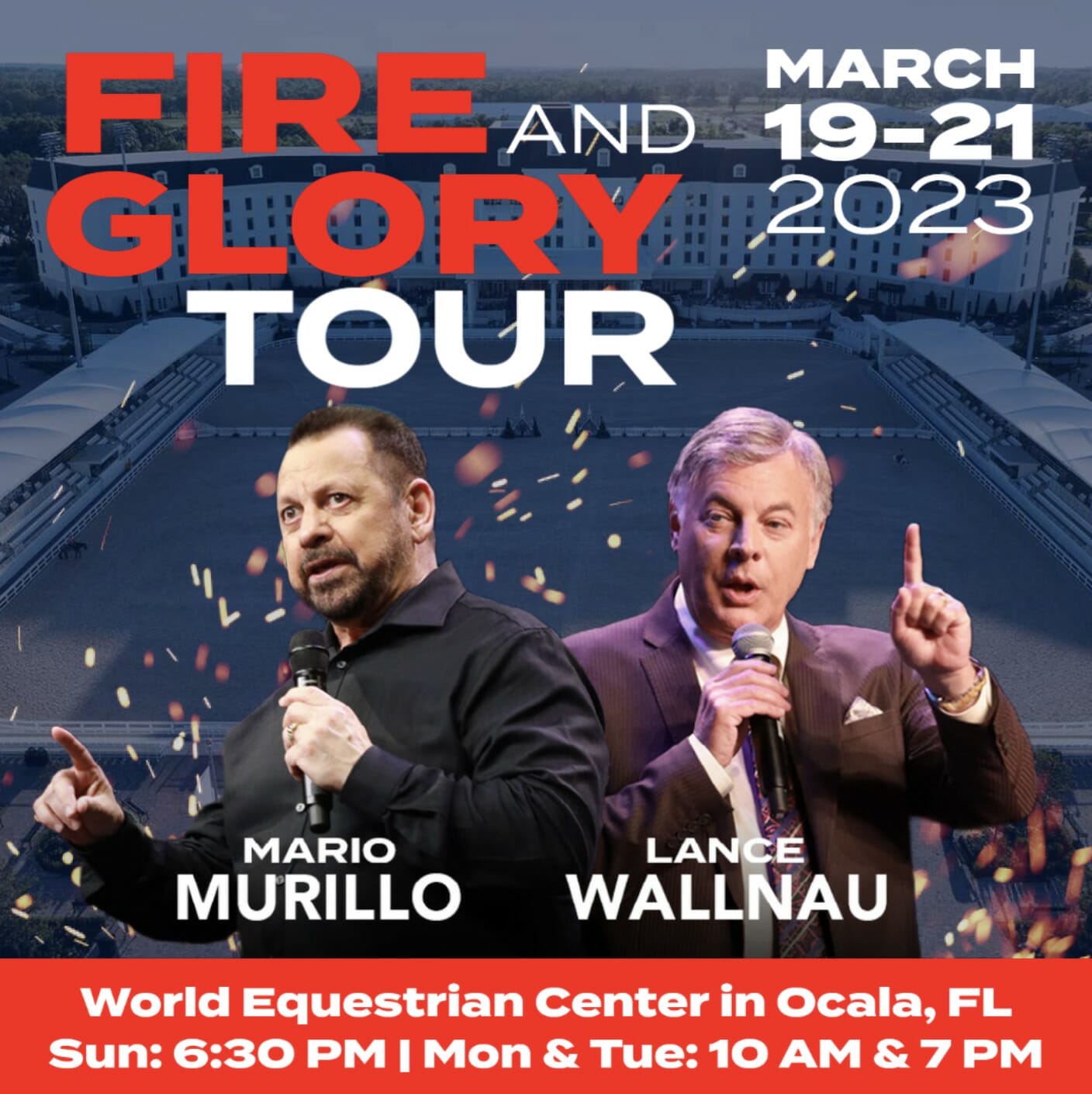 Fire and Glory Tour – Mar 19-21 at World Equestrian Center, Ocala, FL
Register Here for Fire & Glory Tour
The Fire and Glory Tour is an event that promises to be an unforgettable experience for all who attend. It combines powerful messages of truth, miracles, and the outpouring of the Holy Spirit with the opportunity to see firsthand the massive harvest of souls that has taken place at previous events.
If you have not yet had the chance to experience the Fire and Glory Tour, now is your chance. The tour is moving to the World Equestrian Center in Ocala, Florida, where it will be held from March 19th – 21st, 2023.
Sunday 19th at 6:30 pm
Monday 20th at 10:00 am & 7:00 pm
Tuesday 21st at 10:00 am & 7:00 pm
This world-renowned destination is a major center of influence, and only God knows what an outpouring of the Holy Spirit will mean there.
We can be sure, however, that the level of fire and glory will be even greater at this event than at previous ones. With Mario Murillo and Lance Wallnau leading the charge, attendees can expect to be inspired, challenged, and transformed.
Register Here for Fire & Glory Tour
The best part is that registration for the event is free. Don't miss this opportunity to be a part of something truly amazing.
Make sure to register now so you can experience the fire and glory for yourself.
Location at: World Equestrian Center, Expo 2, 1598 NW 87th Ct Rd, Ocala, FL 34482
Contact us at +1 800-980-3424
Free Registration: https://www.itickets.com/events/471395
Further info and hotel details at: https://fireandglorytour.com
#mariomurillo
#lancewallnau
#worldequestriancenter
@ocala
#ocalafl
#florida
#healing
#HolySpirit
#fireandglorytour
#horses
#church