How can I tell you what God did tonight in Ocala, Florida? It won't be easy, but I will do my best.
It was a glorious night of God's immense presence, His power, and his restoration. Mario spoke a powerful message that was followed by one of the largest altar calls we've ever seen. And as if that wasn't enough, God did miraculous works touching and healing bodies throughout the arena. It was an awesome thing to experience.
The location of the meetings is the beautiful World Equestrian Center in Ocala, Florida. It is owned by Mary Roberts, and she has declared that it belongs to the Lord. And it plays out through every member of her staff. We are grateful to Mary for this amazing place to gather.
The evening kicked off with an incredible time of worship by Catherine Mullins. She ushered us into the throne room and led us into a genuine time of worshiping our King. As has become our custom, the worship time closed with the song, "I Speak Jesus." It always changes the atmosphere. You can't declare the name of Jesus without Him responding—and He did!
Mario and Lance took the stage and greeted the people. Lance began by quoting John 1:5, "The light shines in the darkness, and the darkness has not overcome it." He said, the devil had no idea what God was doing, and like back then in the first century, tonight the devil does not know what God is about to do. Mario identified that this is clearly the launching of a movement, not just a gathering of people.
Mario then took the pulpit and prayed over the people and the meeting before beginning to speak. He started by sharing a video of an amazing healing that took place in Colorado Springs which was confirmed while we were in Bakersfield, just this past week. The woman who was healed had been attacked in her body by parasites, causing her to be in incredible pain all the time, barely able to function or eat. She was wasting away and was on death's door. But God touched her and when we saw her in Bakersfield, she was fully restored. Walking under her own power, dancing, in no pain, able to eat, even healed of food allergies that she had suffered from even before the parasites invaded her body.
Mario shared how many Christians today are very frustrated. They are tired of commercialism and having the systems of the world coming inside the church. He said there is a feeling growing among many believers: they don't want the flesh. They want the moving of the Holy Spirit.
Pastors and Leaders are frustrated because there is a fad dominating us. While we were looking the other way, Wokeness stole our country. The Church was supposed to stop it, but bad teaching, carnal traditions, and false doctrine got in the way
He described things some of the things he had been told that the lost could not tolerate—things we have put into church to make it palatable to them. But truly desperate people don't care about the circumstances, only that they want Christ, and they want Him now.
Mario shared about when Abraham Lincoln was running for Senate and he delivered a speech entitled, "A House Divided." The way he described America is the same place we find ourselves once again. He said America would either have total slavery or no slavery. Likewise, America will not last if the polarization between red and blue states gets any worse. He said, "God's not going to allow it."
He then commissioned the people. Told them they are no longer spectators, but now they are soldiers in the Army of God, and that we need to go through a re-evaluation.
He continued with Lincoln's speech where he said, "In my opinion the nation will not cease until a crisis shall have been reached and passed." Lincoln was trying to prevent the Civil War. He said the nation could not endure being divided.
Mario said, America is down to two choices: Woke Tyranny or Christian Reformation. It's important to understand, not every Christian is awake. And the cure for Wokeness is to be awakened.
When people say all of this is in God's hands and we just need to sit back and watch God work, they don't understand the Bible. The Bible says, "Since by man came death, also by Man came the resurrection from the dead." God has given mankind—the Church—a role in the restoration of America.
We need to be trained, aware, awake, and filled with the fire and anointing of the Holy Spirit. In order to bring this nation back to God. It's not enough to be a conservative. You need to be saved and baptized in the Holy Spirit.
He shared how Lincoln also said in his speech, "If we can know where we are, whither we are tending, we can then better judge what to do and how to do it." And then Mario showed how this is also in the Bible.
"The sons of Issachar who had understanding of the times, to know what Israel ought to do" (1 Chronicles 12:32).
He said that America is divided, and it is not right that our children are being taught perversion. It is not a division we can solve in the natural. Christianity will survive without America, but America will not survive without Christianity.
Without Christ this nation is headed for disaster, beyond a political solution. Do we need to be involved in politics, yes; but God wants to give us all an anointing to bring influence into all areas of Christian and American life.
We are headed to a point where church will not be safe without the anointing.
He asked, "What do we need to do? We need to find common ground. We need to be very discerning today what God is saying and what pleases the Holy Spirit. That is why He will move in miracles and the supernatural.
He said churches are already being visited by God in a mighty way, but there is a separation. Those that want the carnal version are being put aside. Their ministries are being shelved because they refuse to discern the times they are living in.
Mario then taught how to have power and do actual damage to the enemy. God is bringing together an alliance between aware conservatives and Spirit filled believers. Together, in unity, their power will flow through the nation and make a difference, makes changes, and stop the Woke.
Mario then moved into a time of allowing the Holy Spirit convict the hearts of the people. He had them raise their hands, then stand and come forward. And did they ever come!
This might be one of the largest responses we've ever seen. It rivals all the tents, and the incredible response we saw in Tulsa at the Mabee Center.
There were so many people that responded they couldn't all fit in the front altar area and were filling the aisles. Many hundreds responded. I would estimate it was nearly a thousand people.
What a glorious, magnificent sight to behold. To see people respond to the conviction of the Holy Spirit. To see so many who were lost, but now are, no longer. People who were dead and are now alive. Souls who's lives will never be the same.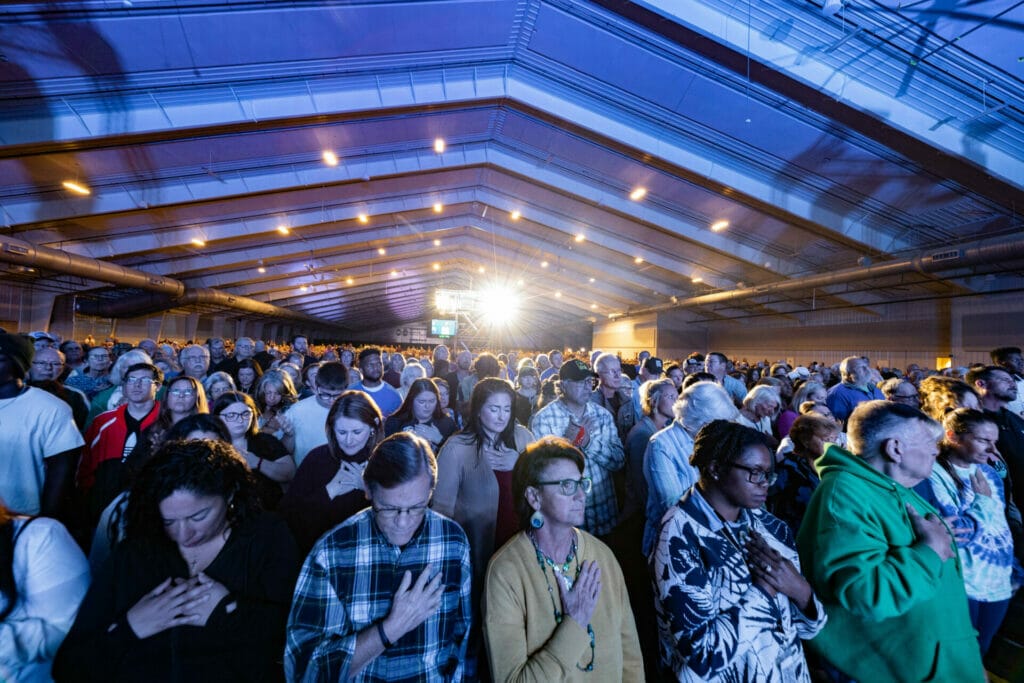 After Mario prayed with them, he sent them out to be ministered to and prayed for. And then the power of God began to flow like a mighty river through that place. And hundreds were healed of many illnesses, diseases, and ailments.
Mario shared that many people in the building were being healed. Cancer, diabetes, and blindness were being healed in the room.
He then identified a woman and had her stand up. He said the people all around her were also being healed. But that when she raised her arms all the joints in her body began to be healed. She began moving her arms and neck, now with no pain.
Heart disease, diabetes, lung issues. All being healed.
On the other side of the building, five people suffering from chronic migraine headaches, severe pain in the spine and neck. They all stood revealing they were being healed. Another who was being healed of a hip condition.
Mario had the people around those who were standing lay hands on and pray for them. Reminding the people once again that it is not Mario, or any one person who is doing this miraculous work. It is only Jesus who is healing.
Someone with cancer was identified, and God was healing their body. Being in the room, it was so clear this was real. You could truly feel the power of God. It wasn't emotion or hopeful intentions; God was in the room. The Holy Spirit was flowing mightily through the people.
Seven people were identified with migraine headaches in one section. They all stood to be healed. One of them had a special kind of disease that often leads to a desire to commit suicide.
A woman was identified who had fallen off of a ladder, crushing the base of their spine. Her body was healed and all the pain was gone.
Mario had the people pray loudly in the language of the Holy Spirit. It was like another wave of power swelled through the building.
Stomach issues, lung issues, brain issues, dementia, diabetes, arthritis, cancer were all being healed as God's power burned through the room.
People were being slain in the Spirit, laying on the floor as the power of God swelled and grew, touching His people.
Mario kept calling out more and more people. Kidney disease, scoliosis, epilepsy, eczema, severe depression, and pain in stomachs. Wave after wave of the presence of the Holy Spirit kept flowing through the room.
Mario encouraged the people to surrender to the mass working of the Holy Spirit, healing and deliverance. He asked them to raise their hand if they needed anything. Then had all the people around them lay hands on them to pray for them. To declare a miracle over the people on whom they were laying hands.
He called for people to repent of unbelief. To ask God to forgive them for thinking they are going through the motions and that nothing will happen. Then to declare the miracle over them.
Mario prayed over them as they declared healing over one another. Then he had everyone pray in their heavenly language, had them declare power from God over disease.
It was such an incredible night. The presence of God in that room was sweet and glorious. It was hard to see it end.
After a while of waiting in God's presence, Mario led the people in a time of giving God the glory. Then he had all the people who had been touched by God and healed to stand to their feet. People stood all over the building. Many hundreds of people declaring what God had done for them. It felt like the victory cry at the end of a great battle!
The meeting ended with Lance Wallnau taking the stage. He led the people in a chorus just singing the single word, "Jesus." It was such a holy moment as we gave all worship and honor to Jesus.
Lance then taught briefly and closed out the meeting for the night.
There is no way this post does justice to what happened tonight at the meeting. It was so amazing to be in that room! If you weren't there, I encourage you to go watch the stream on Mario's Facebook page. You will be mightily blessed.
There will be two more days of services and teaching by both Mario Murillo and Lance Wallnau, Monday and Tuesday morning and evening. If you are near Ocala, Florida, you should come be in the room to experience the miraculous touch of Jesus Christ! If you are not nearby, you should join us on the live stream. I guarantee you will be blessed!