His tombstone reads, "Now I know something you don't." Indeed, he now knows the answer to the age-old question about what happens after you die. What he now knows, is either the greatest reward, or the greatest punishment.
In the same way, the American church now knows something. And what we now know threatens us with either great reward or great punishment.
God has answered the burning question about revival in America, because He personally lit the fire.
Now we know—because of Asbury University—that the Holy Spirit can suspend church life and, without warning, ignite youth to seek the Lord with unbridled passion.
But this season of fire did not begin at Asbury. It began in a far more unlikely setting, with a far more explosive implication.
The spark came during an NFL game in Cincinnati.
The date was January 2, 2023, and the place was the football field of Paycor Stadium. During a game between the Cincinnati Bengals and the Buffalo Bills, Damar Hamlin, a 24-year-old football player for the Buffalo Bills, went into cardiac arrest after making a tackle.
Players and coaches hugged, wept and prayed as he was taken away in an ambulance. When Damar Hamlin's heart stopped, America held its breath.
Instantly, prayer was legal again in the NFL. The word 'prayer' would be used more in the next 3 hours than in the previous 3 years.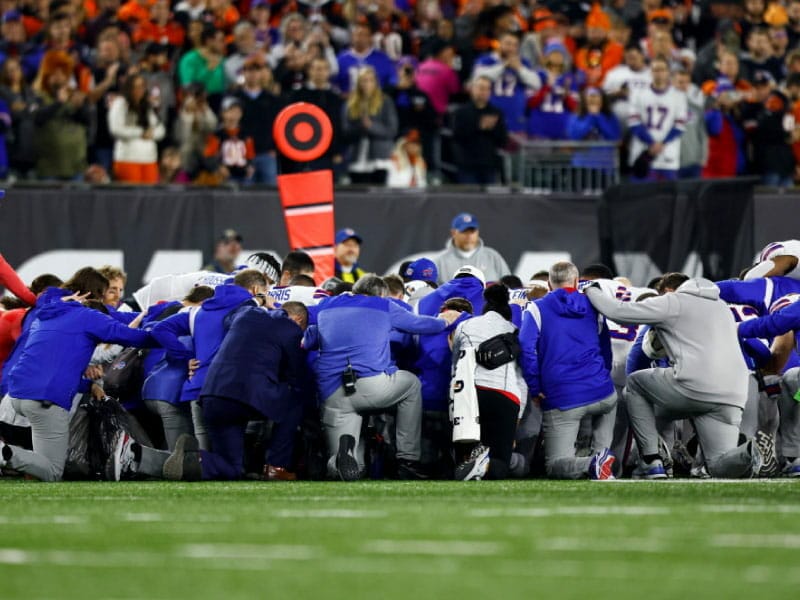 Now we know that when God wants to, He can put millions of Americans under conviction.
God can get America's attention and turn hearts—no matter how godless we have become.
Matthew Henry described this power: "God can change men's minds, can, by a powerful insensible operation under their spirits, turn them from that which they seemed most intent upon, and incline them to that which they seemed most averse to."
God set millions to praying who never pray. God rendered a game—which, just moments before, seemed to be a 'life and death' matter—instantly unimportant. The Holy Spirit took hold of grown men—NFL behemoths—and made them cry like babies.
Next, the Holy Spirit pays a visit to Asbury University and starts a blaze.
Young minds and hearts are focused on God with unfettered devotion. Hour after hour they praise, repent and embrace the glory of God.
Then we heard reports of new outbreaks in churches, campuses and public squares.
And still there was more to come: A movie! CBN news reported this:
The new faith-based film, Jesus Revolution, opened big this past weekend, finishing at number 3 at the box office.
It brought in an estimated $15.5 million. This was more than double the original estimate of between $6 million and $7 million.
As CBN News reported, the film tells the true story behind the Jesus Movement of the 1970s, including how Pastor Chuck Smith welcomed hippies looking for truth at his church. It gave birth to one of the greatest spiritual awakenings in American history.
But all of this is not just good news—it is frightening news. Why? Because it means that a massive harvest of souls is coming and we will be punished severely if we miss it.
God's two-pronged attack on America's heart is clear:
One prong is fire—fire sent to purify the Church in order to bring in the harvest. Repentance is widespread. Leaders are coming to grips with secret sin and false goals. Programs are going out the window. The long-forsaken reverence and fear of the Lord God is making a full and rightful return.
The second prong is the wholesale conviction of sin sweeping across America. The tears shed at the NFL stadium will soon become rivers of tears, as God grips the hearts of millions.
Fourteen months ago, Woke perversion reached its zenith. The church lost multiple battles in education, politics, and in the courts. The Christian Conservative movement was splintering. False doctrines and witchcraft plagued the Spirit-filled community. Most of all, our youth were on an anti-god, drug-fueled binge.
That was when I wrote about the coming youth revival. I thought that my new book would be laughed at. Here is what I wrote on pages 72 and 73 of It's Our Turn Now:
"I want you to conclude that even though our youth generation is in the throes of great deception and looks utterly lost and disinterested in Christ, there is a great spiritual upheaval within them. That upheaval will be seized by Christ. He will draw them to Himself in vast numbers.
"We are about to witness the fulfillment of a prophecy given many centuries ago by the prophet Joel, and quoted by Peter on the day of Pentecost.
"And it shall come to pass in the last days, says God, that I will pour out of My Spirit on all flesh; your sons and your daughters shall prophesy, your young men shall see visions, your old men shall dream dreams. And on My menservants and on My maidservants, I will pour out My Spirit in those days; and they shall prophesy."
Photo from Living Proof Colorado Springs
Those verses are going to be sovereignly fulfilled. It will come to pass. But if we fail to move with God, we will be punished for sleeping through the harvest. I am convinced that we are in the same place as those four lepers who wandered into the enemy camp and found that it was abandoned. The provisions they found were desperately needed by those who were starving and dying in the city.
2 Kings 7:9, "Then they said to one another, "We are not doing right. This day is a day of good news, and we remain silent. If we wait until morning light, some punishment will come upon us. Now therefore, come, let us go and tell the king's household."
The lepers knew there were two dangers: "If we remain silent," and, "if we wait."
Now we know.
Once more God has chosen to have mercy on America. Shall we waste it?
Shall we shake our fist at God and tell Him the price is too dear? What will become of us if we wave aside such undeserved favor?
We need an Ezra today. His prayer rained down devastating conviction upon backslidden Israel. When Ezra saw that the Lord had shown the people His undeserved mercy, he was gripped by the terror that the Jews would waste it. He prayed this warning:
Ezra 9:13-14, "And after all that has come upon us for our evil deeds and for our great guilt, since You our God have punished us less than our iniquities deserve, and have given us such deliverance as this, should we again break Your commandments, and join in marriage with the people committing these abominations? Would You not be angry with us until You had consumed us, so that there would be no remnant or survivor?"
I cannot shake the feeling that if we sleep through this harvest, we will have no more America. No election will save us. No amount of money will deliver us.
Now we know. Vast fields of human souls are ripening—because Jesus said so!
John 4:35, "Do you think the work of harvesting will not begin until the summer ends four months from now? Look around you! Vast fields of human souls are ripening all around us, and are ready now for reaping."
The greatest crisis our ministry is currently facing in Bakersfield is that so many people want to be saved, but we are short of workers. I have to believe the same is true where you live.
We must drop everything. We must go through whatever cleansing God wants—cleansing, in order to win souls. The widespread hunger for Jesus that we are seeing should be driving us to our knees!
Now we know that a football game; a fire on a campus; a movie; and a thousand other signs, leave no doubt that a life-or-death awakening has come.
Now we know the punishment that will come if we fail. And now we know the glorious reward that will come, if we obey!

Do not miss the coming mass harvest of souls! Get the book that not only saw this coming, but contains the fire, and the training for those who want their turn at mass soul winning. Reading It's Our Turn Now will change your life.
AND PLEASE PRAY FOR THE LIVING PROOF TENT CRUSADE IN BAKERSFIELD CA. THERE IS STILL TIME FOR YOU TO VOLUNTEER!  https://mariomurillo.org/living_proof_bakersfield