I arrived at the Tent grounds a couple hours early and, again, many of the seats were already occupied. Almost an hour before we were scheduled to start, the place was overflowing with people.
Catherine Mullins and the Radiant Church worship band again brought down heaven. They were joined by several hundred youth who were absolutely on fire. The presence of God was intense and powerful as they led us into a great time of worship.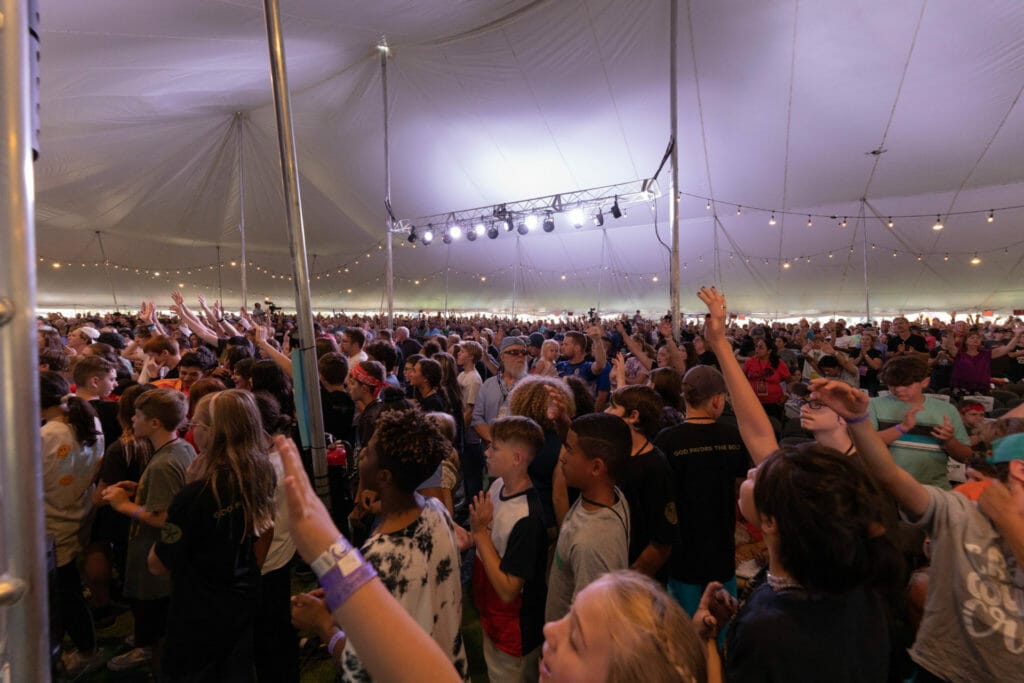 Mario took the stage and spoke for nearly an hour, his topic being: Modern Preaching. In particular, he uncovered the lies of the false 'gospel' coming from the pulpits of many churches today
He described how vaccines work in order to make a point, but not the one people expected. He talked about how a vaccine is a powerless version of a disease, made up of dead viruses. The body responds to the vaccine as if it were the real thing, training itself to destroy the real version. Then he showed how Satan has introduced a dead 'gospel' into the church that mimics the real Gospel. It is designed to inoculate us against the real thing when we encounter it.
"Let no one deceive you by any means; for that Day will not come unless the falling away comes first, and the man of sin is revealed, the son of perdition" (2 Thessalonians 2:3).
Mario went on to quote the first part of John 3:16, "For God so loved the world that He gave His only Son…" He described it as the scariest passage in all of Scripture, because you cannot know how bad hell is until you see the depth of what God was willing to pay to keep you out of it.
He also talked about the woman at the well and contrasted the temporal relief of the natural water with the eternal relief of the spiritual water. Then he made an appeal to those desiring salvation.
And once again, people came from everywhere. It is always a thrill to see souls find their way home. They filled the area in front of the platform and the aisles. And for the fourth night in a row, I followed them out of the Tent as they received personal ministry. The line of people must have reached over 75% of the way around the Tent.

After this there was a very discernible shift in the atmosphere. Although God had been there the whole time, it was as though He somehow entered for a second time. In the first half, leading up to the time of salvation, He was there as a loving Father and Shepherd, drawing his children back home. But the atmosphere shifted, and He came in like a Lion! He roared into the Tent with an intensity I'm not sure I've ever felt before!
There were so many healings! A woman had her bones, feet, neck, back, and hands healed. She was previously unable to walk without pain, yet now she was running the aisles.
There were five women with intestinal issues. All were healed. Some of them had additional issues in the neck, shoulders, eyes, dizziness, and racing heart that were also healed!
Two different women had similar pain, both coming from accidents. Healed!
A woman with 12 different afflictions, including trouble walking and stabbing pain in the back was healed, and took off running for joy!
Mario called out another woman, and the Lord showed him that she, herself, was someone who lays hands on the sick. She had a growth that had become a tumor. It was gone! Additionally, she was healed in her heart, feet, and spine.
Mario suddenly began to move with the same intensity as God's presence in that place. He came down from the platform and began interacting with the crowd. He approached a man, and he was healed of heart disease. A woman with a bad jaw, eyes, hip, knee and back was healed!
There were more healings: severe pain in the body, and many diseases: heart, blood, brain and lung. One person was healed of mysterious throat and stomach pain.
Mario called out multiple people in various sections of the tent. One section had healings of heart and lung disease; in another section, cancers in the stomach and esophagus were healed.
So many others: jaw pain, headaches, tumors, pernicious anemia, sickle cell anemia, neuropathy, dizziness and diabetes. All healed!
The Holy Spirit showed Mario one man suffering from hemophilia, and he was healed!
He then called out a woman who was sitting toward the right side of the Tent. He said she was being healed of liver and kidney disease. As she was being healed, the Holy Spirit came upon her. Mario told her, there is a new tongue in you, and told her to begin to speak it out. She began praying in the most beautiful prayer language.
Mario then asked if anyone else in the Tent had not been baptized in the Holy Spirit and had never spoken in tongues. He said, "Raise your hands and receive it!" Soon, the Tent erupted with the sound of people speaking in tongues, many for the very first time. Mario then added that they were not asking for tongues, but asking for more of Jesus!
Mario declared, "The days of Pentecost are coming back to America!"
"Your people shall be volunteers in the Day of Your power; in the beauties of holiness, from the womb of the morning, you have the dew of youth."

Psalm 110:3
If you weren't able to attend these meetings you missed an incredible move of God. I would encourage you to watch the videos on Mario's Facebook page, and witness God doing many mighty works!
And if you want to be part of what God is doing, sign up to volunteer at the Sacramento Tent in November. More information will be available very soon on

mariomurillo.org
"Mount Sinai was covered with smoke, because the LORD descended on it in fire. The smoke billowed up from it like smoke from a furnace, and the whole mountain trembled violently." Exodus 19:18